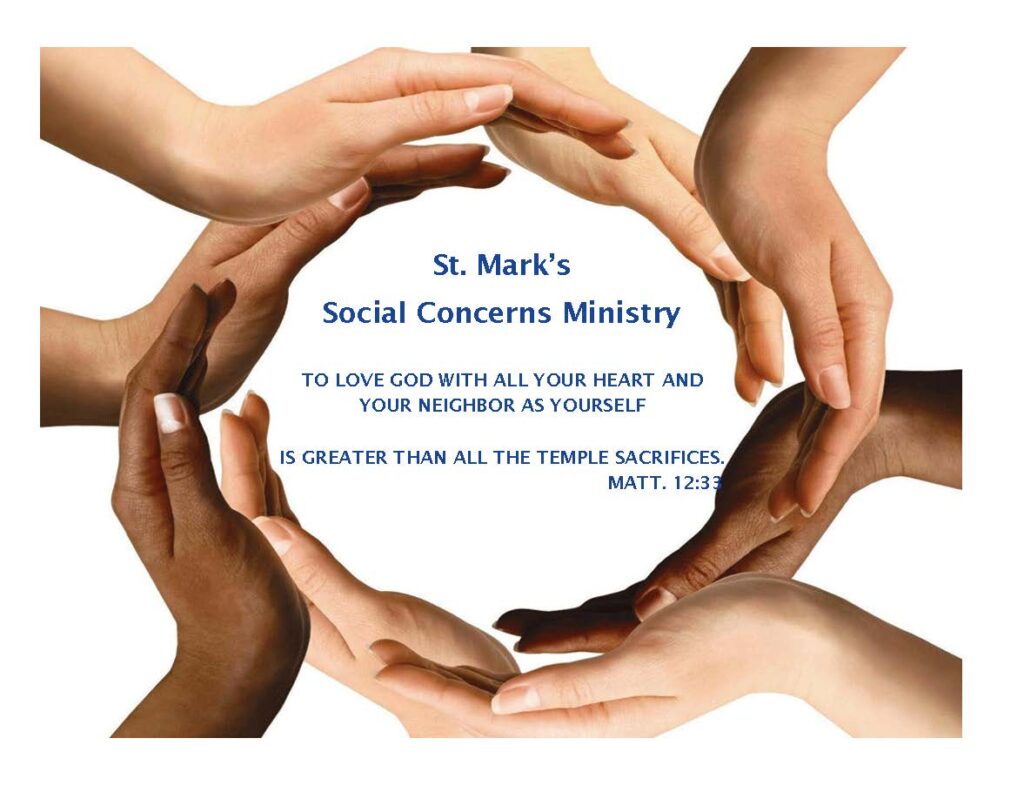 The sole purpose of Social Concerns is to help those in need. Since 1986 the committee has endeavored to reach out to the poor, the lonely, the hungry, the elderly and the bereaved. Sound familiar? Yes! We try to live out the gospel message as your emissaries. We are to be a mediating force connecting the special needs of an individual with the resources of society at large and to be an instrument through which aid, in whatever form, is distributed to those who fall between the cracks of social living. The people we help are the friends and neighbors in our immediate community. There are, as well, those from areas close by who appeal to us for help during difficult times. They are all the family of God, and dedicated volunteers tend to their needs as well as they are able. The committee meets from September to June on the second Tuesday of the month in Father Child's Hall. The mission, though, is year round. Join us anytime!
 Next weekend, July 8th and 9th, there will be a special collection to support the work of the Social Concerns Ministry. Your generous donations are used to support the emergency appeals that we receive during the year such as requests for rental assistance, temporary shelter and food. We also partner with other non-profit organizations to help individuals and families in southern Monmouth County stabilize their lives as they strive to become financially independent.
 Thank you to all who've supported our ministry in the past year. Your donations are making a difference in many lives.  Your help with this year's Social Concerns collection will be put to good use and much appreciated.
Feeding the Hungry
 Frozen Meals Program Resumes!
 Are you looking for an easy way to help those in need?  Here's one way you can make a difference. St. Mark's Social Concerns Ministry is resuming the Frozen Meals Program for the Center in Asbury Park which was discontinued due to the Covid pandemic. The Center in Asbury Park, Inc., is a volunteer-based New Jersey not-for-profit service organization, providing support services for people living with HIV/AIDS and their caregivers since 1992.
The process is simple!  Here's what to do:
Pick up food trays and lids next to the kitchen refrigerator in Fr. Child's Hall (St. Mark's Church basement)
Fill the trays with generous portions of food
Label the tray lids with the contents and date of preparation
Return the meals to the freezer compartment of the refrigerator in Fr. Child's Hall.
Please use only the trays provided.
St Mark's volunteers will deliver the meals to The Center for distribution to their clients.
Please contact Marybeth or Joe Walsh at 732 449-5656 with any questions. Your participation is greatly appreciated.
Mercy Center UPDATE!
 The Mercy Center is no longer accepting clothing donations
 NEEDED ITEMS:  Mayo ● Mustard ● Ketchup Deodorant ● Toothpaste ● Toothbrushes ● Soap Canned fruit ● Diapers and Wipes
Dish and Laundry Detergent.
 Thank you for your continued generosity.
Collecting Travel Size Toiletries
 St. Mark's Social Concerns Committee is collecting travel size toiletry items (soap, shampoos, toothpaste, toothbrushes, combs etc.) for delivery by volunteers to those in need in the Asbury Park area.  Containers are located at Church entrances.  Thank you!
Meals on Wheels
Homebound seniors can remain comfortably at home with the dignity of independence and the security of having someone visit once a day with a nutritious meal. Also, the warm smile of one of our wonderful volunteers or caring meals-on-wheels drivers is important to them and often serves as a wellness check.
If you would like more information, please call Meals on Wheels 732-502-3277 or Barbara Anderson 848-444-3123.